Assateague Island is a barrier island south of Ocean City, MD.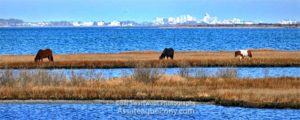 This 37 mile long "barrier island" is Assateague Island and is home to two parks and our beloved Assateague Wild Horses. Notably, the Island extends from the OC inlet in the north all the way to Chincoteague, Virginia. Assateague State Park is run by the Maryland Department of Natural Resources and makes up the northern portion of the island. The Assatague Island National Seashore covers the rest of the Island through Maryland and then through Virginia to the south.
There is actually a fence at the Maryland/Virginia border. The fence is not there to delineate the border but to keep the herds of Assateague Island horses apart. The wild horses in Maryland are maintained as completely wild fauna by the park service. In contrast, the Virginia herd is managed and owned by the Chincoteague Volunteer Fire Company.
The focus here is the Maryland portion of Assateague Island
The most popular activities are three-fold: the beach, the camping and the Assateague Ponies (wild horses). Did you know it is even possible to "Adopt a Pony" through the Assateague Foster Horse Program (more info at that link).
The island is wild. With the exception of developed beach and camping areas, Assateague island is pretty much as nature intends is to be. The "cute" Assateague Ponies are really wild horses living as feral animals on the island. They are not domesticated and can/will bite and kick – they are to be viewed from a distance (signage recommends a bus-length) and are never to be fed or petted.
Why is Assateague Island a barrier island?
A barrier island is a long, usually narrow, sand island formed off the coast of a mainland. It is created by Mother Nature to help protect the mainland coast from erosion cause by coastal storms and storm-wave action. Some barrier islands have been developed into thriving coastal resorts, such as Ocean City, Maryland. Other barrier islands are left alone and may be enjoyed by coastal visitors who like getting back to nature.